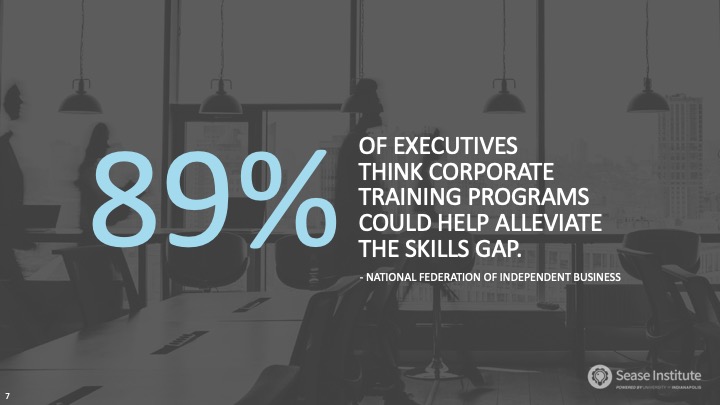 Customized Business Solutions
When it comes to business solutions and training, one size does not fit all. We start by understanding your perspective of the skills required within your organization–embracing a collaborative philosophy–as we tackle your workforce development and talent pipeline challenges. We help you achieve your goals by leveraging expertise from industry and higher education to deliver a solution that fits your timeline and budget. We're committed to continuous improvement and will work alongside your team to evaluate the effectiveness and impact of the training.
The Sease Institute will assemble and serve as project manager of a team of leadership development experts who will diagnose opportunities for development and improvement across the identified levels of your organization by employing the following process:

What Our Clients Say About Our Work
"We have to think differently and more creatively as a company to attract highly skilled talent. Through a unique talent initiative and partnership with UIndy we've been able to fulfill our employment needs for the positions which are critical to our business."

Jack Phillips, President and CEO, Roche Diagnostics Corporation
"We reached out the UIndy which led to a discussion on custom training options. We wanted to address customer service issues, but not in the traditional sense of phone greetings, timeliness, etc. We really wanted to dive deep and define who our customer actually was and what good service to them would look like. The customized training developed by UIndy has helped break down the "proverbial" silos of our organization. Teams are more familiar with each other and more inclined to work together than before. We have started a great conversation around who is our customer, what attributes do we want to focus on as an agency and what does success look like delivering on our mission."

S. Kyleen Welling, Chief of Staff and Chief Operating Officer, Indiana Housing and Community Development Authority
"Community Health Network's diverse array of partnerships with the University of Indianapolis allows Community to meet critical workforce needs specific to healthcare. This collaborative relationship creates opportunities for academic research, professional development and exceptional learning experiences for students. Community Health Network is looking forward to developing new solutions in collaboration with the University of Indianapolis through The Sease Institute."

David Kiley, President of Community Health Network Indianapolis Region
To start a conversation with our corporate training specialist, contact us.