Vice President of The Sease Institute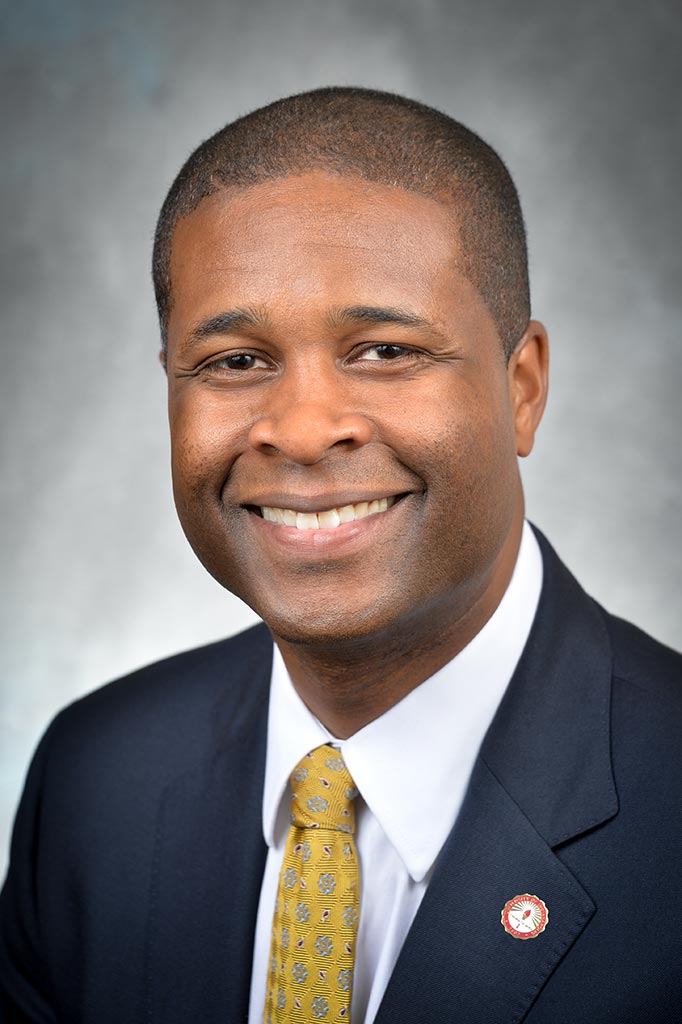 Corey Wilson, MBA
MBA, Purdue University
BS, Recreation & Sports Management, Indiana State University
Special Advisor to the President for External Affairs and Associate Vice President for the Professional Edge Center at the University of Indianapolis – is the founding executive of Sease Institute. Wilson has worked in a variety of industries, including transportation, government, public health, and sports marketing, giving him a unique perspective on the needs of both employers and the 21st-century workforce. Wilson, along with the Sease Institute advisory group and associated industry experts, are focused on helping Indiana employers position themselves to be globally and nationally competitive and strengthening our state's economy.
Executive Committee

Dr. E.J. Choe, DM
Special Representative, Center for Global Engagement
Director, Pre-College Music Program and Adult Music Program
Associate Adjunct Professor, Department of Music
317-910-9939
choee@uindy.edu
A native of Seoul, Korea, E. J. Choe made her televised debut as a pianist for the Korean Broadcasting System at age six. After coming to the U.S. at age thirteen, she won numerous competitions and appeared as a guest soloist with the Denver Philharmonic Orchestra, Fort Collins Symphony Orchestra, and Arvada Symphony Orchestra. Her degrees are from the University of Colorado at Boulder and DM in Piano, Music Literature and Pedagogy from the Jacobs School of Music, Indiana University studying with Michele Block, Leonard Hokanson, and David Baker. E. J. also worked with world-renowned opera singers Martina Arroyo, Virginia Zeani, Roy Samuelsen, and Georgio Tozzi, to name a few. She served as an opera coach at Aspen Summer Festival, Indiana University Opera Theatre, DePauw University, Yonsei University-Korea, and Studi Italiani in Urbania-Italy. Prior to joining UIndy, she was a faculty member and keyboard coordinator at the University of Colorado-Denver, director of IUPUI Music Academy, and director for accreditation at New Mexico Highlands University.
E. J. is an active presenter at national and international conferences for the College Music Society, Music Teachers National Association, and the Music Educators National Conference on the topics of Music Technology and Community Engagement. Her researches in improving pedagogy with technology have been supported by Apple, Yamaha, and the National Research Foundation by the Ministry of Education, Science, and Technology of Korea.
---

Petra Davison, MSN
Assistant Professor
School of Nursing
Areas of Expertise
Mental health nursing, primarily geriatric mental health
Background
Worked as an RN 8 years in mainly mental health nursing. Has also worked in medical-surgical care, cardiac critical care, rehabilitation, and correctional care. Before nursing, worked in residence life as a Residence Hall Director.
Education 
MSN, Nursing, Ball State University
MA, Student Personnel Administration in Higher Education, Ball State University
BSN, Nursing, Ball State University
BS, Communication Science Disorders, Western Illinois University
CNE – Certified Nurse Educator
Certificate in Gerontology
Certificate in Applied Behavioral Analysis
MA, Ball State University – Adult Community Education, anticipated December 2019
Post Master's Mental Health Nurse Practitioner, University of Southern Indiana, anticipated August 2021
MA, Gerontology, University of Indianapolis, anticipated December 2020
EdD, Adults Community Education, Ball State University, anticipated December 2023
---

Dr. Lisa Hicks, PhD Pedagogy of Physical Activity and Health
Chair and Professor
Kinesiology, Health & Sport Sciences
Areas of Expertise
physical activity, physical education, wellness, wellness coaching, fitness coaching, program advocacy, exceptional teachers of physical activity
Background
As chairperson and associate professor at UIndy, Dr. Lisa Hicks has initiated several new academic majors and innovative programs, including several mutually beneficial community partnerships. Under her leadership the department has experienced significant growth, over eight-fold in 10 years, with increased enrollment in existing areas and with the addition of new programs in community health education, exercise science and Healthy Diploma™️. Dr. Hicks has been elected and appointed to several significant professional positions including president of IAHPERD, National Association for Sport and Physical Education Steering Committee, American Kinesiology Association and National Association for Kinesiology in Higher Education. She has made over 50 professional presentations and authored more than 20 professional papers.
Research Interests
factors that influence attitudes toward physical activity, factors that influence adolescent physical activity, strategies that influence positive teaching strategies, exceptional teachers of physical activity
Education 
PhD, Pedagogy of Physical Activity and Health, Purdue University
MS, Physical Education, Wellness, Ball State University
BS, Physical Education, Ball State University
---

Dr. Terry Schindler, PhD Business Administration
Assistant Professor of Management
Founding Director of Institute for Postindustrial Leadership
School of Business
Areas of Expertise
leadership, empowerment, strategic analysis, entrepreneurship, organizational behavior, business ethics, training and organizational development, statistical process control and quality problem solving, customer satisfaction, listening, effective presentations, conducting effective meetings, conflict resolution, assertiveness, creative problem solving & decision making, process consultation, facilitation skills, managing organizational change, management development and first-line supervision
Background 
Teacher of the Year – University of Indianapolis, 2008.
Faculty Achievement Award – Vision 2030 Conversations – University of Indianapolis, 2013
Institutional Leadership Award – Service to UIndy – University of Indianapolis, 2018
Distinguished Alumni Award – Faculty and Staff, University of Indianapolis, 2019
Founded ARTESIAN Training & Consulting in 1997. Co-founded The Institute for Postindustrial Leadership in 2018. Worked for Thomson for nearly 33 years and held numerous professional and management positions in operations, quality assurance, sourcing, human resources and sales and marketing. Has worked in the training and organization development field since 1981.
Research Interests
leadership, empowerment and scholarship of teaching and learning
Education 
PhD, Business Administration, Kennedy-Western University
MBA, Business Administration, University of Indianapolis
BS, Management & Administration, Indiana University
AS, Management & Administration, Indiana University
AS, Electronics Technology, United Electronics Institute
---

Dr. John Somers, EdD
Curriculum & Instruction and School Administration
Program Coordinator, Department of Leadership & Educational Studies
Program Coordinator, Special Education
Elementary Coordinator, Department of Leadership & Educational Studies
Associate Professor
School of Education
Areas of Expertise
applied behavior analysis, emotional and behavior disorders, curriculum related to special education, school leadership, change theory
Background
Over 25 years as a special education teacher, principal and director of child psychiatric services. Recognized by Indiana Council for Exceptional Children as Special Education Professor of the Year in 2012.
Research Interests
social skills instruction, educational simulations and games, teacher quality, video-based coaching
Education 
EdD, Curriculum & Instruction and School Administration, Indiana University
BS/MS, Elementary Education and Special Education, Indiana University
---

Dr. Rachel Smith, PhD Business Finance
Associate Professor of Finance
School of Business
Areas of Expertise
Investments, Financial Markets & Institutions, Cases in Finance, Personal Financial Planning, Corporate Finance, Financial Statement Analysis, K-12 Education Finance
Background
Conduct frequent media interviews & editorials for local and regional news stations, radio, and newspapers. Completed dissertation research on the use of integrating finance cases in the classroom at Harvard and University of Virginia's Darden MBA Programs. Developed the Finance Major for the UIndy School of Business. Professional experience in financial planning and corporate finance. Received UIndy Outstanding Faculty Award and UIndy School of Business Teacher of the Year Award. Serve as author and editor of textbooks for leading finance publishers. Established community partnership with Shepherd Community in which UIndy finance students provided pro bono financial advising as part of the Voluntary Income Tax Assistance program. Developed and co-directed first MBA in Educational Leadership in partnership with the Woodrow Wilson National Fellowship Foundation.
Research Interests
Case Discussion Leadership in the Classroom; Career Development Strategies for Business School Students; Engaging Students in Real-World Experience and Service Learning Opportunities; Integration of Business Skills for K-12 school leaders; Use of applied learning strategies in the classroom
Education 
Ph.D., Business Finance, Regent University
M.B.A., Financial Planning, Regent University
B.A., International Business, Palm Beach Atlantic University
---
Dr. Wendy Stoelting-Gettelfinger, PhD, FNP
Graduate Program Director
School of Nursing
---

Dr. Whitney Tipton, PhD Communication and Information Studies
Assistant Professor of Communication Studies
Areas of Expertise
Employee relations, communication campaigns, intergenerational communication in the workplace, developing and auditing online courses
Background
Six years conducting internal communication audits and campaigns; experience teaching undergraduate and graduate courses both online and face-to-face; Quality Matters Certified peer reviewer
Research Interests
intergenerational communication in the workplace, online course development, quantitative research methods
Education 
BA, Spanish, Minor, Economics
MA, Strategic Communication and Leadership
PhD, Communication and Information Science
Emphasis: Organizational communication
Cognate: Research Methods